New Camera Bag — Kata R-103
One of the things that's been bugging me as of late has been my main camera bag. I've been using a Lowepro CompuTrekker Plus for a few years now and for the most part, it's treated me well. I could carry all my gear with room to spare, including my laptop. However, as useful as the space was, a lot of it wasn't being used. The bag is also rather bulky, even though it's gone through the airport perfectly fine. I've also had a zipper pull break, which sucked since it was made of a piece of nylon string instead of metal or rubber. The zipper for the laptop section also doesn't stay on track anymore, so that's been quite annoying. Thus, after many good years of usage, I figured it was time for a new main camera bag.
At first, I wanted to get another Lowepro, but I wasn't a huge fan of the designs of the alternative bags to my CompuTrekker Plus. I then looked over the Tamrac bags, but none of those really caught my eye. I finally ended up looking at the Kata bags and just about every one impressed me. After going back and forth, I finally decided on the Kata R-103, thanks to its rave written and video reviews. Behold!
My apologies for the photo quality of this and the next few photos, since they were taken on my Samsung Memoir T929 and I really didn't bother trying to make them look uber pretty. Anyway, there it is, with the tripod attachment on the right. The main thing I liked about this bag was the quick and easy access I had to my camera. I don't have to open the bag all the way to reveal all the lenses. Instead, I can just open up the center section and pull out my camera:
As you can see, I can pull out my camera very fast, and I have access to filters and compact flash cards in the zipper pocket on the left. Here's how it is with the bag fully open:
As you can see, everything fits, including my flash and Lightsphere. The big yellow section on the left actually consists of more pockets to store stuff, which is where I put my remote trigger and lens cleaning wipes. It's definitely densely-packed, but everything zips up just fine and doesn't feel any heavier than when all of this stuff was in my old bag. Like my old bag, the laptop compartment is on the side:
My Macbook Pro 15.4″ is a nice and snug fit, and the compartment seems better padded than my old bag's. Oh, and remember the tripod attachment I mentioned earlier? Here's how the bag looks with my tripod mounted:
Since my tripod only weighs about 3 pounds, the bag feels just fine with the tripod mounted and doesn't feel like it's leaning to the side at all. On this front shot, you can easily notice these "ribs" that are found on the bottom and back of the bag as well:
These "ribs" are Kata's "Thermo Shield Technology," which Kata describes as
"a state of the art solution that provides the perfect protection level for digital equipment while creating an extremely lightweight product. It is featured on the important areas of the bag that are subject to shock."
You can definitely feel the rigidity in the bag at these points, which really gives me confidence that my gear is well-protected. Finally, here's a size comparison between my new bag and my old bag:
The difference is pretty noticeable, especially in the height, which isn't pictured here. This results in a bag that's not only easier to carry around, but also comfortable at the same time. The bag also has a cool camera strap that allows me to quickly connect the camera to the bag straps instead of my neck strap, but I didn't really have a good way to take photos of it here. Overall, this bag is looking pretty good and I definitely don't have any bad things to say about it thus far.
For more information on the Kata R-103, please visit their flash and video-powered presentation here: https://www.kata-bags.com/productFRM2HS.asp?p_Id=275&Version=Photo#p7GPc1_4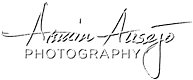 Copyright 2022 by Armin Ausejo Photography