Quality over quantity: that seemed to be the overall theme of 2018 for my photography. With a new, busy full-time job, my photography admittedly took a backseat to everything else in life. Nevertheless, I used many of my work travels to take photos in places that I had never been before, making it all worth the blistered feet and hauling the heavy photo gear. Here is a link to my favorite photos of 2018, followed by them broken down by season:
https://photos.arminausejo.com/History/2018-Year-in-Review/
Winter
I had a chance to feel the cold of winter in both my hometown of Seattle and in Berlin, Germany. Berlin was a very surreal experience, even though I was only able to spend a couple days exploring the city. I'll be back there sometime in 2019, so I'm looking forward to taking more photos there and hopefully other parts of Europe!
Spring
From the cold of winter came a pretty mild Spring here in Seattle. I had a fun time taking advantage of the weather and testing out the Sigma 135mm f/1.8 on the University of Washington campus. My own Nikon 300mm f/4 PF VR truly shined as well, with my Mt. Rainier and bald eagle photos getting a lot of attention on social media.
Summer
Unsurprisingly, many of my photos actually occurred during the summer. I had a good variety of photos, from portraits, to a supercar, to even just taking causal photos during my cousin's wedding in Southern California. I also fell in love with the Nikon 105mm f/1.4G during this time as well.
Fall
I ended the year traveling quite a bit, taking a short vacation in Vegas and Dallas, and then a work trip all the way to Shanghai. It was great to attend the Vegas Golden Knights practice and take some photos from the stands, enjoying some true Texas barbecue, and then seeing the gorgeous night lights of the Shanghai skyline. I'll also be going back to China in 2019 as well, so hopefully I'll get a chance to take more photos in Asia soon!
That wraps it up for 2018. I'll be traveling once again before the end of the year to the L.A. area, but I wanted to get this post up prior to my departure. Those who know me well know that this past year has been full of challenges, and I am eternally grateful to all of you for your love and support. Happy Holidays and Happy New Year to you all!
Armin H. Ausejo
December 20, 2018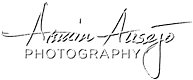 Copyright 2022 by Armin Ausejo Photography