Let's face it: 2020 has been probably the toughest year most of us have experienced in our lifetimes. Between lockdowns, working from home since March, and just simply not being able to see loved ones in person, these have just been the tip of the iceberg of bad things that have happened this year. Through it all, I've definitely tried to make the best of it, and while I definitely couldn't go out and take as many photos as I would've liked this year, the time I've spent learning new editing techniques and practices has definitely helped. I suppose that's the silver lining of being stuck at home! This year's collection is pretty small compared to previous years, but I'm very happy with the outcomes. Since seasonality doesn't really matter so much, I'll just go over these photos in small groups.
London
First up was a work trip in January before the pandemic hit, which took me to London for a single night. I had my Nikon Z7 with me with a rented Nikkor 24-70mm f/2.8S from BorrowLenses and it really shined! It's just too bad that Big Ben was under renovation at this time.
Seattle Center
Right before we all went into lockdown, I was able to show some members of my Berlin team at work around Seattle, and ended up with some really great photos, including this year's featured photo.
Harper's 2nd Birthday
And then just a few weeks right before lockdown started, we celebrated my niece Harper's 2nd birthday. This ended up being the last in-person social event that I've participated in since!
Keeping myself busy
Enter late March and April, and we're right in the heart of the lockdown. With no haircut and little sanity, the most I could do to keep busy outside of work was to take random photos close to home for the time being. We had a "Super Moon" so I took that from our deck, and spring time brought new cherry blossoms across the street. I was also able to go out and take a photo of Ella with a boat as well just for a little change of scenery. Then in September, wildfires were raging all over the West Coast of the United States (because that's all we needed in 2020, wildfires!), so it turned the sun red and made it look like we were on Planet Krypton.
Comet NEOWISE and Ella
In July, our planet was visited by Comet NEOWISE and I made it a point to make sure I get out and take some photos of it. The Z7 really shined here, even if the Z6 is probably better for astrophotography. I was also able to get my good friend Edelmar to help out with some light painting of Ella to make for a truly epic, once in a lifetime photo. No sky replacement for this one, that comet is really in the sky behind my car!
The Beauty of Washington State
One thing that I'm very thankful for is that my parents have been safe and healthy throughout this pandemic. Since they're also locked down tight and can't really go anywhere, we spent a lot of time during the summer visiting various state parks and enjoying the outdoors as much as we could. That way, they could at least get out of the house yet still stay safe and socially distant. I took my camera with me of course and really enjoyed capturing the beauty of Washington State.
Fall Colors and Fog
We finally arrive into autumn, when the weather gets not just colder but wetter in typical Seattle fashion. I was able to take some nice fall colors photos with Ella and even just out in the backyard before we all were better off staying inside. My last foray into the elements was during a surprisingly foggy Seattle evening, which ended up making for some really surreal shots.
So there it is — 2020 really won't be missed much, but at least made the best of everything I could. Since there wasn't much else to do in terms of taking new photos, I spent a good deal of time re-editing a bunch of old photos. I'll be posting those in a couple separate posts, so that wraps this one up. I sincerely hope everything turns for the better in 2021, and I wish you all a safe and healthy holiday!
Armin H. Ausejo
December 21, 2020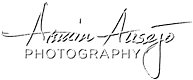 Copyright 2022 by Armin Ausejo Photography