2016 went by like a blur for me. It didn't take anywhere near as many photos as I have in previous years, mainly due to life changes such as taking a role at eBay as the Global Digital Marketing Manager for the eBay Partner Network. Life is busy, but busy is good, and through it all I still found time to take some really great photos. 2016 was a year of many changes, and while some things make me feel very uneasy, at least I can look back at my photography and remember all of the great memories and people. If you've been a part of my photography in any fashion through 2016, you have my sincere thanks and appreciation. Here's a link to all of the year in review photos, before I break it all down per month:
https://photos.arminausejo.com/History/2016-Year-in-Review/
January
2016 started off with a bang as I took Sidnee and Mia's engagement photos on New Year's Day. It was an honor to take these for my best friend and the photos turned out wonderful. Later in the month, I met up with Lee to take photos of his new Mazda Miata MX-5. Don't let the top down fool you, it was freezing cold!
February
There were plenty of celebrations in February, with Wence's 29th birthday at Kells Irish Pub and then a trip down to Las Vegas to celebrate Sidnee and Mia's engagement with their families.
March
The weather started to get nice in March, with my annual cherry blossom photos in The Quad at the University of Washington and taking some corporate portrait photos for the Fluke Accelerate group. That didn't stop us from having a little fun with it!
April
I started off the month helping my friend Catherine with her fashion portfolio presentation for school in a project called "The Imaginary Line," and then took photos of Will's BMW 1M as the first part of a two-part session.
May
By far the busiest photography month of the year, we started things off with Will's fantastic McLaren 650S MSO Spider, aka the stuff of which dreams are made. This was probably my big solo automotive highlight of the year and is absolutely up there with my best automotive photography. I then took a quick Fluke-related trip to Chicago and was able to meet up with fellow automotive photographers Ginash George, Jeremy Cliff, and Brad Sillars for a few drinks, came back and took some quick photos of a Scion FR-S for NWMotiv's first press car, and then immersed ourselves with more Toyotas at NWMotiv's TSL Day. And if that wasn't enough, I ended the month over Memorial Day Weekend in Vegas to celebrate Jo's 30th birthday.
June and July
After a crazy busy month, June and July were still busy, but not quite as much schedule-wise. NWMotiv had its annual June car show with DriveNW, and then I went down to San Diego to celebrate my niece Angelique's high school graduation, as well as a visit to her new school, University of California Santa Barbara. Then in July, we had "Fluke Day" at work and then celebrated my friend Teakre's birthday.
August
A lot of big changes for me started in August, as I left my job at Fluke and started to work for eBay at the very beginning of the month. Despite starting a new job, I was able to attend Formula DRIFT Seattle and take some really awesome photos. This may or may not be my last Formula DRIFT event, so if this was indeed my last, at least I ended it on a high note.
September and October
As I settled into my new job at eBay, September and October lacked in the photography department. However, I was still able to get some great shots of my friend Paul's Nissan GTR, and then in October flew down to eBay's headquarters in San Jose, California for the quarterly new employee orientation. eBay donuts, how much better can you get?
November
Given my new busy work schedule, I closed out the year with a fantastic photoshoot with the beautiful Ashton Solecki modeling some new Daily Driven apparel, and took some family Christmas photos for my co-worker Kevin and his family.
What a fast and crazy year 2016 has been! I'm hoping I'll have more photography opportunities in 2017, but at least the quality of the photos this year was top notch. Despite how tense 2017 is already looking to be, I'm hopeful that we can all get through it safely, and that photography will be a great outlet to relieve some of the pressure and anxiety. Happy Holidays and Happy New Year to you all!
Armin H. Ausejo
December 24, 2016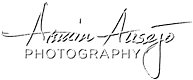 Copyright 2022 by Armin Ausejo Photography